🐖️ 🐖️ my lovely pig rescue visit 🐖️ 🐖️
My Lovely Pig Rescue kindly invited us to their home in Kildare to visit the pigs and help out with their chores! We had the pleasure of getting a tour of the rescue, meeting all of the pigs, and hearing their stories. Some of these pigs have had really hard times in the past and it was so lovely to see them enjoying themselves in a safe environment, as all animals should.
The work that My Lovely Pig does is truly amazing and we would strongly encourage you to donate any amount that you can by clicking here.

Visit their website: My Lovely Pig.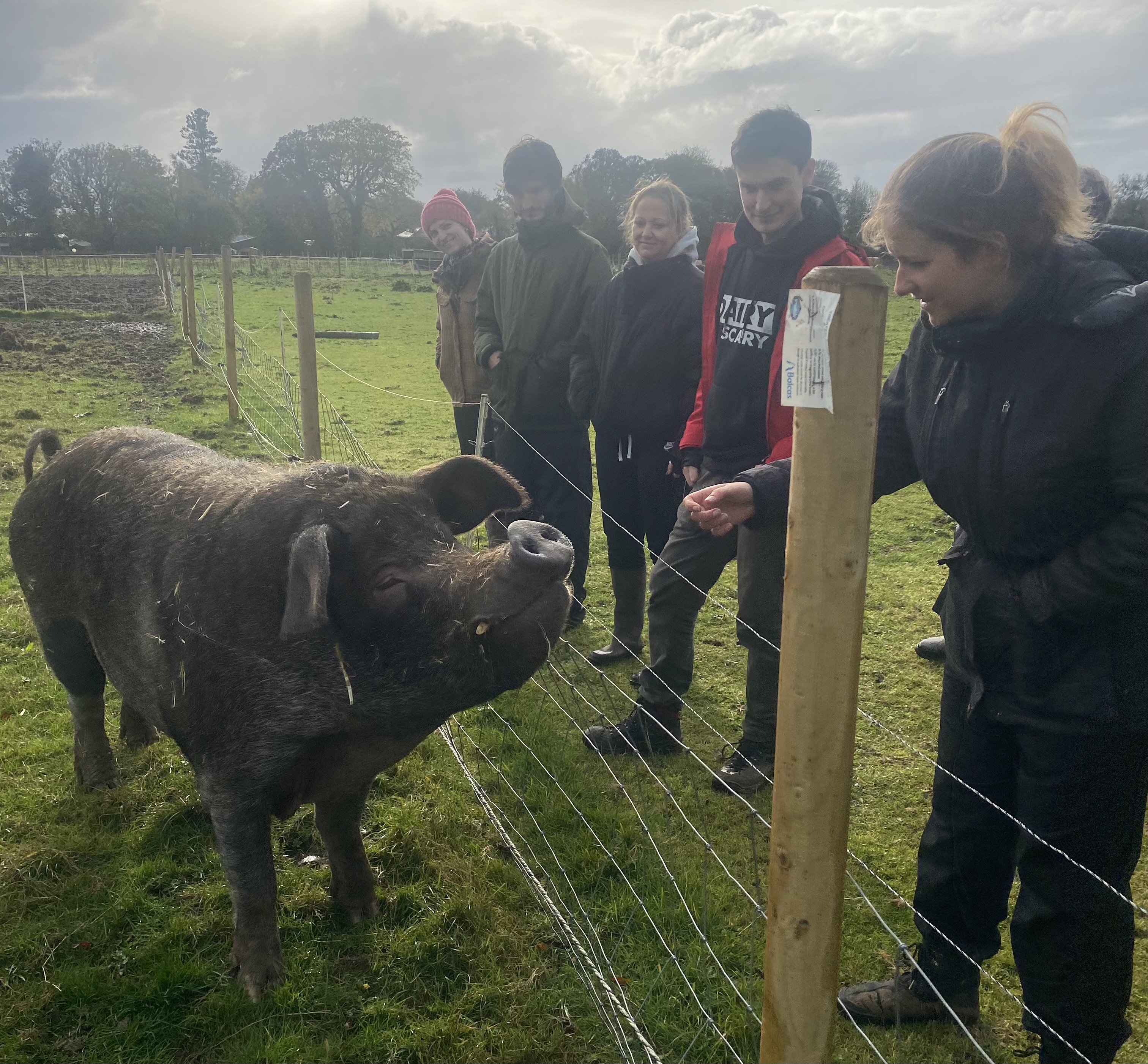 🍎️🍕️ DUBLIN VEGFEST 2022 🍎️🍕️
We are really excited to be taking part this year in Dublin Vegfest, happening September 24-25 at the Leinster Cricket Club in Rathmines D6. On Saturday at 1pm you can hear our talk about the effects of animal agriculture on the climate crisis and the #PlantBasedFuture we're working for. We'll also have a stand where you can come and make your own Animal Rebellion merch - bring a tote bag, a t-shirt or anything you want to print on!
Get your tickets here:
dublinvegfest.com
🔥️ 🌎️ cop 26 global day for climate justice 🌎️ 🔥️
COP26 ran from Oct 31st-Nov 12th 2021 in Glasgow. With no mention of animal agriculture, one of the leading causes of the climate crisis, we took to the streets along with many other groups - see more here.
🐖️ ︎ ban live exports 🐖️ ︎
In October 2021, we joined Ethical Farming Ireland and My Lovely Pig Rescue to demonstrate outside Dáil Éireann, demanding that the government cancel their plans to fly pigs to China. (See photos on our Actions page.) Our protest caught the eye of many journalists and one celebrity in particular. See what James Cromwell, well known for his role as the farmer in 'Babe', has to say to the Irish government by clicking the left image below.
Listen to him speak about the issue on Claire Byrne Live, Novemeber 8th 2021,
here.
︎ ︎ bycatch parade ︎ ︎
We called on the Irish government to introduce a minimum of 30% Marine Protected Areas by 2030 and an end to destructive trawling and overfishing. Select the image below to read more about it.
talks for a compassionate future
Our monthly online talks series, 'Talks for a Compassionate Future' brings experts to speak to members and the public, followed by Q&A and discussion. The series has so far covered a broad a range of topics related to climate and animal justice.




some of our talks/interviews:
FILM CLUB
We hold a monthly online film club, with free screenings of climate or animal-related films, followed by discussion. We hope to arrange an in-person film club soon.

Both the Talks series and the Film Club have been a great way for us to grow our knowledge and stay connected as an organisation, especially during pandemic restrictions.




SOME previous FILMs: